About Us
Dave Shirley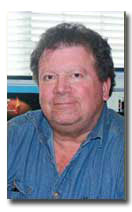 Dave is a graduate of California State University, Long Beach, majoring in Journalism, with a minor in Radio/TV Production.
Dave was originally a technical writer whose past companies include Allergan Pharmaceuticals, Anagraph and Pimco Investments, He took on additional duties when he joined Alta Vista Shopping in Irvine, California, designing animated product tutorials for visitors to the site and managing sections of the company intranet.
In 2001, he joined Buy.com (now Rakuten), where in addition to his technical writing duties, he continued to advance his knowledge in website design and animation,
After the dot com crash, he found himself "downsized". That's when he decided to found Mind to Sight Web Design. In 2004, Dave packed up his family and moved to Redmond, Oregon, a big change from the fast pace of Orange County; instead of wading through contracts with faceless entities, he now seals a deal with a handshake.
He likes the personal approach, working on a one-on-one basis with his customers, who are mainly small businesses in the Redmond area. Dave realizes that money is tight these days, and his customers want a presence on the web that won't break their bank account.
Associate Companies

Timothy Park began taking photographs as a child, emulating his father, an accomplished hobbyist photographer. At the age of ten he traveled to Japan with his Dad's camera in hand, snapping away. He became the photo editor of his high school newspaper, and was active in covering sports. A job after his senior year at a 1-hour photo lab cemented his love for the craft, and introduced him to the profession.
Timothy started his career as a freelance photographer in 1992, after graduating from college. He holds a degree in Commercial Photography from Art Institute of Seattle. Following graduation, he returned to Milwaukie, Oregon where he grew up. Tim operated his business in Milwaukie for 16 years before moving to Redmond, Oregon. Free time is spent with his wife and two boys. Skiing, camping, biking, water sports and "beach time in warm places" are some of his favorite things. Tim is also very involved with his Christian faith, and spends as much time as he can lending help to, and documenting projects in Nicaragua, Mexico and Mississippi. He also teaches black and white film photography to high school students. Despite all the activity, just a great cup of coffee and conversation with a friend can make his day.
Examples of Timothy's work may be seen on his website: www.timothypark.com and his blog: http://blog.timothypark.com *

Darlene Veenhuizen has had a love of drawing and painting since an early age. She attended Oregon State University in 2002 and began studying Business with a focus in Marketing. At the same time, she continued to learn formal art skills by earning a minor in Visual Art.
After graduation, Darlene worked for a few years in Corvallis, but felt that her work was lacking the creativity she always enjoyed. She returned to OSU, this time to earn a degree in Graphic Design in 2013.
Soon after graduation, Darlene started freelancing in the Portland area and her company, Pickle Jar Studios, was born. She now lives in Redmond with her partner, Joel, and three obnoxious cats. Darlene works with clients all over the country on design, food photography and illustration projects. She has a love of cooking, crafts, and blogging, and is most likely found cooking up a storm, or with her nose in a book.
You can view Darlene's work and read her blog at www.picklejarstudios.com, or follow her on instagram @picklejarstudios. *
(* These companies are separate entities and have no formal business affiliation with Mind to Sight Web Design. They are merely presented as first-rate additional service options to Mind to Sight's clients)